'Hollywood wasn't interested': Barbara Broccoli on Till and confronting US racism
Exclusive: Bond producer says new film will make 'big difference' in throwing long-overdue light on 1955 lynching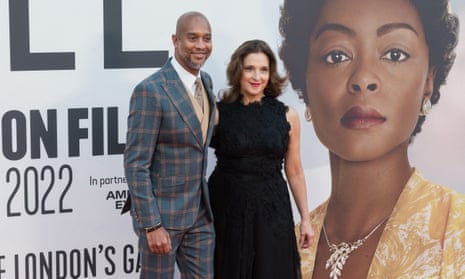 Hollywood has always been drawn to true stories. Yet, for almost two decades, it rejected the idea of a film about a Black mother's fight for justice for her 14-year-old son, who was kidnapped, tortured and murdered in Mississippi in 1955 for allegedly flirting with a white woman.
Producer Barbara Broccoli told the Guardian that it has taken 18 years to get the film made, that she had tried repeatedly to interest studio executives in Mamie Till-Mobley's struggle against racial terror, following the lynching of her child, Emmett Till, by white supremacists.
The case galvanised the civil rights movement, with Martin Luther King Jr describing it as "one of the most brutal" crimes of the 20th century.
But, despite Broccoli's extraordinary track record as the co-producer of James Bond movies, her attempts to make this movie were met with a reluctance to confront a painful chapter of US history.
She said: "They were saying: 'Why would you want to tell this story, it's depressing?' People don't want to talk about this history … They just weren't interested. They didn't think it was worth making."
She added that the "horrible tragedy" of George Floyd being choked to death in 2020, after a police officer pressed his knee into his neck for more than nine minutes – sparking protests around the world – has now made the telling of Till's story "even more urgent".
Before Floyd, though, MGM's Orion Pictures, a studio division making socially-conscious films, had recognised the importance of this movie and Broccoli paid tribute to their support: "They didn't insist that we get a big star name, which was really unusual."
Danielle Deadwyler, listed in 2021 among Variety's 10 Actors to Watch, was cast as Till-Mobley, while the rising star Jalyn Hall plays her teenage son.
The film, titled Till and directed by Chinonye Chukwu, a Nigerian-born American film-maker, will be released in cinemas on 6 January.
It portrays Emmett as a joyful kid who adored his mother, a widow, with whom he lived in Chicago. In 1955, he visited beloved family members in Mississippi, having been warned by his mother that he should "be small" in the segregated south, to avoid confrontation.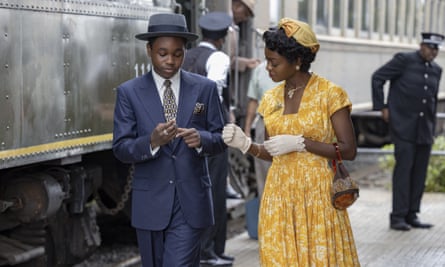 He was murdered after he bought snacks at a local grocery shop. The white cashier, Carolyn Bryant, claimed he had flirted with her.
Her husband and his half-brother kidnapped Emmett, brutalising his face so badly that, at their trial, they were acquitted by an all-white jury because they could not be sure it was Emmett.
Broccoli said the two men later admitted their guilt in a magazine interview, adding: "They were paid for their confession and they were not able to be retried for murder because of double jeopardy."
The Department of Justice reopened the investigation after a 2017 book quoted Bryant as saying she lied about Till whistling and making sexual advances toward her.
But the investigation ended without charges against her. She had told the FBI that she had never recanted her accusations. The justice department said in a news release that there was "insufficient evidence to prove beyond a reasonable doubt that she lied to the FBI".
Till-Mobley died in 2003, never having found justice, although last March, President Joe Biden signed the Emmett Till Anti-lynching Act into law, making lynching a federal hate crime.
She had refused to be silent, speaking out against racial injustice in the south at a time when Black people did not have a voice. She insisted on her son's maimed body being shown in an open casket, so the world could see "what they did to my boy".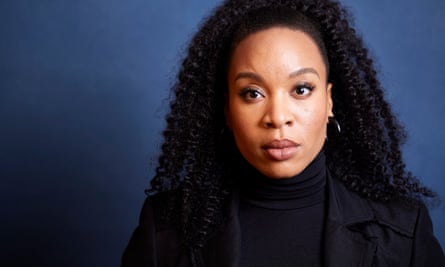 Broccoli likened this to footage of Floyd's last moments captured by a passerby's phone: "If we hadn't have seen that, I don't think we would have believed it … Through these visual images, we have the horror of the impact of these crimes against humanity."
She had become involved with the film after being approached by Keith Beauchamp, a film-maker, who had vowed to fight racism after experiencing it himself. He befriended Till-Mobley and made an award-winning documentary, The Untold Story of Emmett Louis Till.
Broccoli said that racism "happens all the time": "In order for it to stop, first of all we have to be made aware of it. This sort of history in America, as in many other places in the world, is not being taught. What's the old saying? If you don't know your history, you're doomed to repeat it …
"I believe that this film will make a big difference to people who see it … Anything that promotes empathy or a deeper understanding is vitally important and cinema has the power to open people's minds."
She spoke of being moved by audience responses from audiences who have seen the film so far: "A woman in the UK, [whose] family had been in America, shared a story about her mother's brother, who was lynched, and how it totally affected her mother and her grandma's lives … They never really recovered."
Broccoli said: "[Till-Mobley] did say to Keith, you must keep fighting for justice for Emmett until human beings' consciousness is raised. That's the reason to make a film."