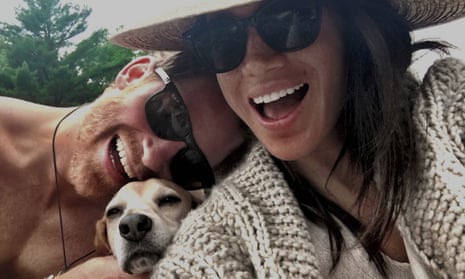 Although there are sweet moments alongside the vomit-inducing, the overriding message of this royal documentary is: the late Queen was right to keep stumm
Well, it's Christmas for Netflix all right. The first gobbet of "educational or entertainment" material that the Duke and Duchess of Sussex are contracted to create as part of their £112m deal with the streaming platform has been delivered. Six episodes of Harry & Meghan, an up-close-and-personal documentary of their life together have been made. Divided into two "volumes" of three, the first volume has now dropped. Like a turd into a stocking, may be the royal family's feeling – but for the rest of us it is entertainment, and indeed an education of sorts. Mainly in how right the late Queen was to keep stumm for her entire 70-year reign.
The Sussexes have clearly suffered, in ways most of us will not experience. Whether they have suffered quite as much as they think is another question. At one point, Harry says in wonder that his wife first sacrificed everything for him – by leaving her life in the US and joining him and the royal family in England – and then he in turn sacrificed everything for her by leaving the royal family and joining her in the US. Which is entirely true and yet not at all true at the same time. A feeling that persists throughout the three hours of insight/non-insight we have been gifted so far.