Happy Valley review – Sally Wainwright's masterwork is back!
From its impeccable acting talent to a writer who captures the female experience like no one else, this drama's final series is as excellent as ever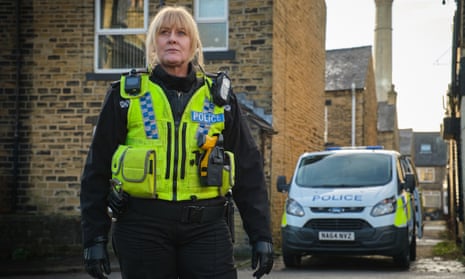 Catherine Cawood is seven months, one week and three days away from retirement and is still dealing with the inexperience, incompetence, arrogance and assorted other failings of the people around her. Or "twats", as she puts it, leaving a particularly egregious pair of them dumbfounded in her wake in the opening scene of the third and final series of Happy Valley (BBC One). She has just given them the identity of a partial skeleton in a cement-filled barrel that has been revealed by the draining of a local reservoir. She's going to be sorry she gave them that, because he's connected to her nemesis, but the moment is glorious.
Yes, writer Sally Wainwright's masterwork is back, six years since the second series ended. Those years have also elapsed in the fictional version of Calder Valley, but all the main characters we have come to love or hate – Catherine (Sarah Lancashire), her ex-addict sister, Clare (Siobhan Finneran), her ex-husband, Richard (Derek Riddell), the tangled mass of conflictions that is her grandson, Ryan (Rhys Connah), and Tommy Lee Royce (James Norton) – are here. George Costigan is back as Nevison Gallagher and his daughter, Ann (Charlie Murphy), is still with Catherine's son, Daniel (Karl Davies).