France review – TV presenter Léa Seydoux is mesmeric in intriguing media satire
The star and the film's intentional blankness add a layer of interest to Bruno Dumont's loose reverie about a journalist experiencing an emotional breakdown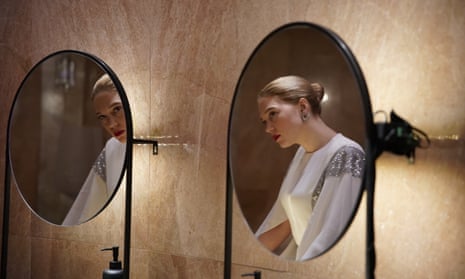 Whatever its flaws, this movie provides fans of French star Léa Seydoux with a treat. She is in closeup so much of the time: that mesmeric, feline beauty is cool in repose, a mask of indifference or mystery, but with a suggestion of late-night indulgence in the faint lines under the eyes. She has something of Isabelle Huppert's hauteur – although Huppert's own faintly ironised blankness only came at a later life-stage. Seydoux's hairstyling and maquillage are swoonworthy, particularly the arterial slash of lipstick. She never appears without a different, entirely gorgeous designer outfit (mostly Louis Vuitton), sensational enough to shatter glass.
As for the film itself, it's an oddity which never quite finds its purpose or shape. Partly it is a TV news/celebrity satire in the style of Network or Broadcast News; partly a state-of-the-nation parable (this may just come down to her character being called "France" and people saying things like "I love you, France!"); and partly a tragicomic reverie about what women want, and what men want.
It is with this third quality that the enigmatic presence of director Bruno Dumont makes itself felt. He started as a kind of Bressonian social realist, often using northern French locations and non-professional actors; and there are some non-professional newcomers here, and the final scene indeed takes place in northern France. Dumont pivoted to broad, wacky comedy and now seems to have swung back to seriousness, though in this film the dialogue tempo will often mysteriously decelerate towards some weird epiphany or nervous breakdown.