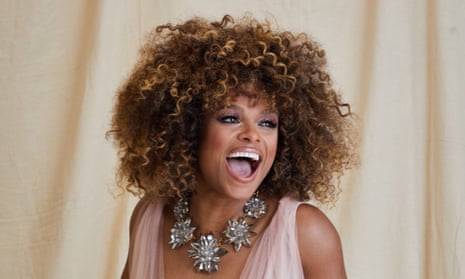 The singer, 35, talks about her musical childhood, supportive husband, rising above rejection and life after The X Factor
I grew up in Walthamstow. My strongest memories are of my mum and dad listening to music every day. Dad wired speakers into every room in the house. We'd listen to George Michael, Michael Jackson and Bob Marley constantly. When they had parties, I always had to sing, which I dreaded. I would get butterflies in my stomach if I knew people were coming round.
I was scared of my parents. They were a great tag team; I very rarely rebelled. The one time I did, I crept back in from a party at 1.30am thinking I'd got away with it. Mum said: "I don't know why you're laughing, you're grounded for the next few weeks."
I was confused about my identity. I have a Ghanaian mother and an English father. Once at school a black boy said, "Black girls are like this, black girls are like that." When I replied, "We're not like that," he said, "Why are you even contributing to this conversation? Your dad's white. You're not even black." But when I was in a circle of white friends, they wouldn't call me white. I thought, "What the hell am I?"
My parents told me people get jealous. They were amazing and made me really self-assured. They said, "Don't let it affect you, people are confused in themselves. Rise above it."
When I entered The X Factor in 2005, I was advised to straighten my hair. There was another black girl in the group who wore a curly wig and she ended up straightening her hair. It was felt having two black girls with curly hair would make the group too difficult to market. That was fairly typical of shows at that time.
My husband Marcel [Badiane-Robin, a musician] stopped me from giving up. When I got eliminated from The X Factor the first time, I thought it would be a blessing, but it didn't work out like that and by 2014 I'd almost lost hope. My dad had even made business cards – for me to be an English teacher or a singing teacher – but Marcel persuaded me to try again. Then, after my semi-final performance of Bruno Mars's Uptown Funk, everything changed.
Being dropped by Simon Cowell hurt. I'd told myself, "I'm different. This won't happen to me," but then it happened. The relationships and connections I'd made by that point meant people didn't forget what I could bring to the table.
Rejection made me realise I was a commodity. It made me see the industry for what it was – that I was a product. But I didn't have a personal vengeance against Simon. I've spoken to him since. If it wasn't for his platform, I wouldn't be doing what I'm doing now. I can't be bitter.
The pandemic recalibrated my thinking. Dad passed away suddenly, at 74, of a heart attack. In the same month, the world shut down. And during lockdown someone I knew took their own life. It felt like so many things were happening simultaneously. I thought: "I need to cherish every moment, not take anything for granted, enjoy the small things."
Without my husband I'd never be in the position I am today. We remind each other why we're doing what we're doing, always encouraging and supporting. Anytime I've wanted to break away from performing, he's been the person to say, "No." He's believed in me more than I believed in myself.
Fleur's single, Count the Ways, is out now