Firebrand review – Jude Law's obese and oozy Henry VIII rules supreme in Catherine Parr drama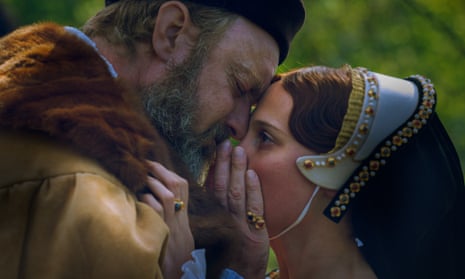 Bum deal … Jude Law as Henry VIII in Firebrand with Alicia Vikander. Photograph: Larry D. Horricks
The ailing king's misogyny is compellingly disturbing but Alicia Vikander is underused as his final wife
Jude Law outrageously steals every scene as a horrendously unwell and cross Henry VIII in this Tudor court intrigue drama that also serves as an amusing noir counterfactual, adapted by the screenwriters Jessica and Henrietta Ashworth from the novel by Elizabeth Fremantle and directed by the Brazilian film-maker Karim Aïnouz, making his English-language feature debut.
It's all about the king's tense relationship with his sixth and final queen, Catherine Parr, played with creamy, inscrutable placidity by Alicia Vikander.
The king's bedchamber is perfumed by the pus splurging from Henry's bloated and ulcerated legs as the doctor changes his bandages, getting thumped and screamed at by the royal patient. This Henry is peevish and cantankerous. And we at one stage get a full-on shot of His Majesty's pale, fleshy bum as he has conjugal relations with Catherine – like the giant, shaved arse of a sheep. Did Law use a buttock double for this stomach-turning image? But there is something deeply disturbing and abusive about Henry's violent behaviour: misogyny and coercive control we might call it now, and Henry didn't have to remind his wives that the scaffold awaited them.
Aïnouz interestingly conveys the purely dysfunctional and Dionysiac strangeness of Henry's court, upon which he still hopes to impose his will through displays of music, dancing and his own jadedly roistering good humour, but also capriciously changing his mood to keep these timeservers on their toes. He is of course aware that all his marriages have been political alliances with potential or actual enemies, so his marital relations are poisoned with paranoia from the outset.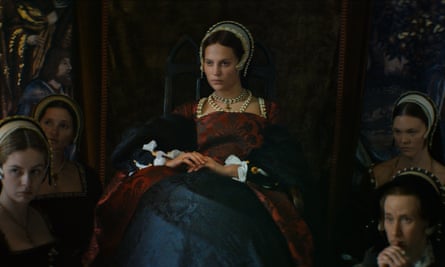 Catherine Parr is reasonably in favour with him, having been appointed regent while the king was in France, but widely suspected of religious radical sympathies in objecting to church use of elitist Latin: the movie imagines a friendship between Catherine and the Protestant heretic preacher and firebrand Anne Askew (Erin Doherty) and is she thus hated by the reactionary bishop Stephen Gardiner (Simon Russell Beale), who would love to burn her at the stake.
Meanwhile, the Seymour family, connected with the king's surviving male heir, Edward, son of the late Jane Seymour and destined to die as Edward VI at just 15 years old, are coolly circling and Thomas and Edward Seymour (Sam Riley and Eddie Marsan) are smugly aware of their own privilege. But just as Catherine's star begins to wane, she gets pregnant – a wildly thrilled Henry declares it is probably a boy. But will she survive?