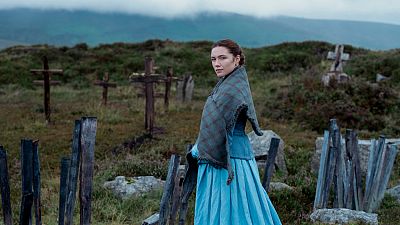 In, Out… In, Out…"
Chilean director Sebastián Lelio returns to the big screen after four years with The Wonder, an adaptation of Emma Donoghue's novel of the same name. This captivating period drama transports the viewer to Ireland in the wake of the Great Famine, with a story that pits faith against science.
Set in a small, devout community, we follow Elizabeth "Lib" Wright (Florence Pugh), an English nurse who is hired by the village authorities to examine a unique case. A young girl, Anna O'Donnell (Kíla Lord Cassidy) has supposedly gone without food for four months. She is still, miraculously, alive, and showing no signs of starvation.
She says she lives on "Manna from Heaven."
"How does that feel?" Elizabeth asks.
"Full," Anna responds.
The village elders have all but canonized the 11-year-old, and visiting pilgrims refer to her as "a wonder."
But some aren't convinced. The skeptical nurse's mission is to stay by the girl's side for two weeks, rotating eight-hour shifts with a nun, Sister Michael (Josie Walker). After the fourteen days, they must each hand in their reports ascertaining whether the miraculous feat is the real deal or if Anna is a pawn in a larger game based on a lie that could turn divine into malign.