Do they know it's Christmas?! Why today's meek festive pop lacks the crucial chaos element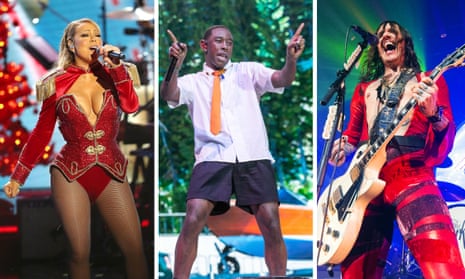 When you think of the sound of Christmas, it's Frank Sinatra, Dean Martin and Bing Crosby battling over the same wholesome carols. Eartha Kitt and Elvis Presley banging out the horny (Santa Baby) and melancholy (Blue Christmas) pop classics with shades of divorce. Ex-members of the Beatles and their jaunty, war-torn offerings. Reliable and constant, old and faithful; still relatively close to traditional Hallmark card images of people gathered around an upright piano in front of an open fire. They are mainstays because they're great songs, but also because modern hit-makers have struggled to replace them. Mariah Carey's All I Want for Christmas Is You is 28 years old. Even Kelly Clarkson's Underneath the Tree, arguably the last modern addition to the Christmas canon, was released almost a decade ago.
The problem is that today's songwriters shoot too classy. Remember Elton John and Ed Sheeran's Merry Christmas? Nobody does. Ariana Grande and Leona Lewis have made worthy contributions to the modern canon, striking the perfect balance of frivolity and flair like Mariah before them, but they made the mistake of writing songs that are good because they're good, not songs that are good because they're slightly off their rocker. Christmas songs fail when they don't reflect the spirit of the season, pairing nicely with the act of taking a drunk selfie in a paper hat at 10am. Having a buffet of freezer "bits" from Iceland as a between-meals snack. Dad spluttering swear words as he fails to assemble a child's toy. Violent attempts to tranquillise the cat so it can travel five hours to Abergavenny without getting a stress injury. Ergo, a good modern Christmas song must reflect the intensifying chaos of the world. It must be willing to be a bit crap, but in the right way, and requires a really dialled-up, manic edge.