DJ Sama' Abdulhadi on techno and tenacity: 'As a Palestinian you know life could be over in 10 minutes'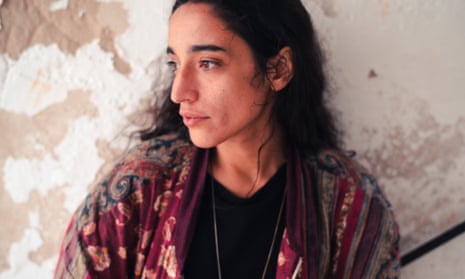 The dancefloor gave Abdulhadi freedom from the political pressures she faces as 'a woman, an Arab and Palestinian'. Despite a set at a mosque threatening to land her in jail, she won't stop in her pursuit of it
The DJ and producer Sama' Abdulhadi has been told she was a precocious child. Possessed of an insatiable drive, she excelled at almost everything. But this wasn't regular child prodigiousness, she explains. "The first thing you learn as a Palestinian is that you're probably going to die. You have to engage a little bit extra because life could be over in 10 minutes."
Abdulhadi, 32, was born in Jordan to a family that had been exiled from Palestine by Israeli forces after her grandmother, Issam Abdulhadi, a leading women's rights activist, arranged a sit-in and hunger strike. The family was allowed to return in 1993. As a child, Abdulhadi started a hip-hop battle group and played for the country's national football team before a career-ending injury cut her dreams short. She left Palestine to study sound design in the Lebanese capital, Beirut, and discovered techno during a local set by the Japanese DJ Satoshi Tomiie.
"I didn't understand what the hell was happening," she says when we speak in December, speaking by video from a break in Paris after a tour that has taken her from Australia to Lebanon. "Then I started dancing. Six hours later, the party ended and I was confused because I went into a different zone. I was a very angry child. I was very aggressive and then, all of a sudden, hours [on the dancefloor] would pass and I wouldn't think about politics."
Abdulhadi started throwing parties, DJing across the Arab world (she would move to Cairo to work as a sound engineer) and becoming known for her ceiling-wobbling sets, popping and fizzing with menacing energy and underpinned by rapturous, sample-based punchy rhythms. In 2018, she performed in Ramallah, Palestine's administrative centre, for the online streaming platform Boiler Room. Her set went viral: with more than 11m views, it is one of the platform's most-watched videos.
Abdulhadi says she sees DJing as a way for her to escape from the political pressures she finds herself under being "a woman, an Arab and Palestinian"; it's obvious from how she beams throughout the hour-long set, surrounded by family and friends.
She is probably the most prominent Palestinian artist performing today. "It's a lot of pressure because I want to represent Palestine perfectly," she says. She has experienced the friction that can accompany representation. In 2020, she received permits from the Palestinian authorities to perform at Nabi Musa, a mosque that doubles as an events space, hostel and pilgrimage destination. Nearly five hours into her set, religious Palestinians stormed the venue after seeing footage on social media. Abdulhadi stopped the party peacefully. By the time she got home, videos of the incident were all over the news. The Palestinian prime minister, Mohammad Shtayyeh, announced that he was assembling an "investigation committee" to find out what had happened.
Abdulhadi was arrested the next morning and jailed for eight days for desecrating a religious site. Her court date has been pushed back three times. If she is found guilty, she could face several years in prison. "In the beginning, it was tough," she says. "Now, I'm like: ah, it was just another day. I talked about it for a year to everyone and anyone, which was healing. I try to always find the tiny bit of water in the glass that is empty. Maybe it's a Palestinian thing, the resilience."
That trait has been sorely tested recently, she says. "There was a point when people from Germany were buying tickets and flying into Palestine for parties," she says. "But now, no one comes." The Israeli occupation of Palestine has intensified over the past two years, with more than 72,000 Palestinians being displaced during the 2021 conflict alone. "Nobody's in the mood to do a party. Nobody's even thinking of organising their birthday," says Abdulhadi.
She was due to curate part of the Palestine Music Expo in 2022, but the event was cancelled due to the instability in the region. Disheartened, she found another way to provide a platform for her peers, creating the Union Collective for Palestinian creatives, among them chefs, lighting and sound engineers and animators. Some of its musicians will join her this month on the first night of her four-week residency at the south London's clubbing institution Phonox. "We decided that we're going to make a collective for whoever is not in a collective and wants to be part of one," says Abdulhadi. "The rules are you have to be OK with taking feedback, working together and never making money."
Despite the threat of the court case hanging over her, Abdulhadi is relaxed about her future, holding on to that childhood sense of determination about where it might lead. "I keep going with the flow," she says. "That's the only way I know how to make decisions. Five years ago, I was building a company and a career that had nothing to do with DJing. Now, I'm a DJ. Maybe in 10 years I'll be a football manager for a team in Palestine."
 This article was amended on 6 January 2023 to change a reference to the status of Ramallah.