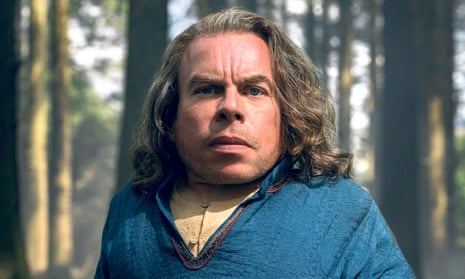 Warwick Davis reprises his role as Willow Ufgood In Willow. Photograph: Amanda Searle/Lucasfilm Ltd.
George Lucas wrote Willow for Warwick Davis after seeing him play an Ewok in Star Wars. As the actor returns as the baby-saving sorcerer, he talks about Val Kilmer pep talks, the Harry Potter shoot – and channelling a Ricky Gervais sitcom
Warwick Davis is, by some distance, the most commercially successful supporting actor in the history of cinema. Thanks largely to playing an Ewok in Star Wars and a Hogwarts professor in Harry Potter, Davis is partially responsible for a worldwide box office haul of more than $14bn. But this week, Willow launches on Disney+. And he plays Willow, so he is very much in the spotlight.
"It's a weird moment," he says, ensconced in a plush London hotel, surrounded by the full-bore machinations of the Disney promotional industry. "You feel like you're on the edge of a cliff."