Dance 100 review – does anyone understand this choreography competition's judges?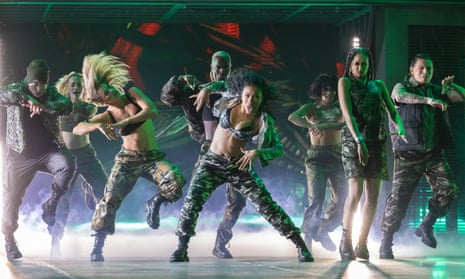 Smashed it … Dance 100. Photograph: Tom Dymond/Netflix
It's a hyper-energetic dance off that's watchably perky to the end. But unless you're a specialist choreographer, you may be baffled by the criticism. 'Needed a lot of face', anyone?
Reality TV competitions which require professionals to compete with other professionals, thus putting their reputations and perhaps even careers on the line, are usually excellent. MasterChef the Professionals is more fraught with peril than regular old MasterChef. There's always that moment when a head chef of many years' standing reveals that they have no idea how to butterfly a chicken, or whip up a quick béarnaise sauce, or grill a slice of toast. Ditto the high pressure of Bake Off: The Professionals, which puts its pastry chefs through hellishly difficult feats of chocolatiering. Now the same principle has been applied in Dance 100, a new Netflix series that pits professional dancers against each other to find the "next superstar choreographer".
Much to my disappointment, Dance 100 turns out not to be a remake or spin-off of Physical 100, the smash hit Korean fitness-fest, though I did like the idea of a Hunger Games for contemporary dancers. My main reference point for dancers remains In Bed With Madonna, and on the basis of that, I suspect that concept might have been even more ruthless than pitting bodybuilders against MMA fighters and military veterans. Instead, there are eight contestants, each with a degree of prominence in the dance world. The 100 of the title are dancers, who serve as participants in the routines, as well as audience, judge and jury.