Alexandra Palace, London
Despite a limited back catalogue, the west London drill frontrunner's convincing live show hints at a global rap superstar in waiting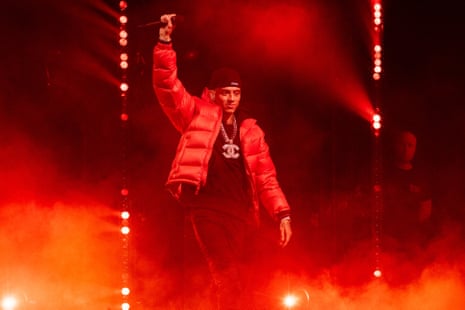 Ahomecoming show in Alexandra Palace's great hall arrives as a cap on an extraordinary couple of years for west London rapper Central Cee. Riding UK drill's foray into the echelons of pop, he's staked a solid claim as the first genuinely global UK rap star of his generation. He has the chart placements (seven Top 20 hits) and the streaming stats (20 million listeners a month on Spotify), but does he have the catalogue and the charisma needed to carry a room like Ally Pally? On this chilly November night, the fruity tang of Elf Bar vapes – a telltale sign of a young audience – mingles with the anticipation in the air.
His charisma is undeniable: he barely has to breathe to raise rapturous squeals from the crowd. But the catalogue? "I wish I had more hits," he says, in a moment of candour towards the show's close. "I've not been in the game long." Hence, he explains, the name of his tour, Still Loading, which ends tonight after stops in Europe, North America and Australia.