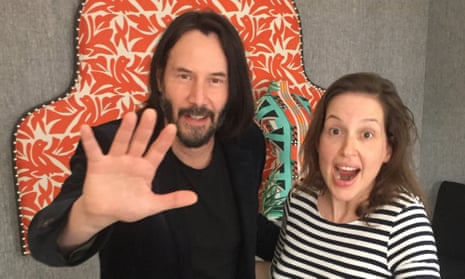 'I was overcome by his handsomeness' … Hadley Freeman with Keanu Reeves in 2019.
Ben Affleck was delightful, Justin Timberlake a drag and Keanu so handsome I couldn't speak. Here's everything you always wanted to know about A-listers (but were afraid to ask)
Istarted working at the Guardian in the summer of 2000 – not to write, but to look after a key. The key to the fashion cupboard, to be precise, ensuring no clothes for the fashion shoots were stolen. This was my primary role as the fashion assistant. Or, as I preferred to call myself – and say it with me as one, fellow Ghostbusters fans – the keymaster. And I will never have a job with more responsibility or power.
Nonetheless, soon after I started, section editors asked which celebrities I'd like to interview. I was too young and dumb to appreciate how completely incredible it was for editors to even know the name of the fashion assistant, let alone give a damn who she wanted to interview. But that's what the Guardian was like, and, my God, how lucky was I to be here. But my point in this, my last feature for the Guardian, is among all the various job titles I've had on this paper, ranging from the improbable (northern news reporter) to the frankly unbelievable (World Cup features writer), one thing that has never changed is that I always interviewed celebrities.