Branson review – makes you wonder if Sir Richard's risk-taking is really worth celebrating
This four-part documentary series profiles an existence in which the Virgin boss has repeatedly gambled his financial security – and even his life. Is that a good thing?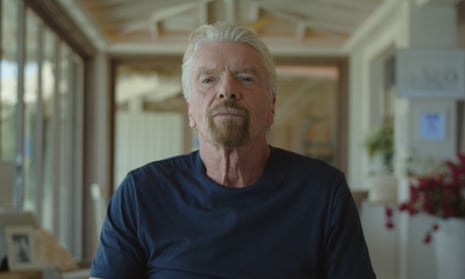 Branson (Sky Documentaries), director Chris Smith's four-part biography of Richard Branson, starts at the end. Or at least, it starts with Branson anticipating the end. It is the summer of 2021 and, in his lovely sprawling villa on his private island in the tax haven of the British Virgin Islands, Branson is preparing to take a trip into space. He is recording a video message for his loved ones, to be played in the event of him not making it in and out of the stratosphere alive. Articulating the bereavement that could befall his wife, children and grandchildren causes him to repeatedly break down in tears, spoiling the take.
The sequence has significance beyond being an arrestingly intimate moment that looks good in a documentary. Branson, by reputation, is an inveterate risk-taker who has consistently rolled the dice on new ventures when he could have preserved what he already had. Here he is at 70, still risking everything, even his life. The opening episode of Smith's series skilfully gives us room to wonder whether this is something to be celebrated.