Billy Nomates: 'Some days I think I've done something good, the next I'll set fire to it'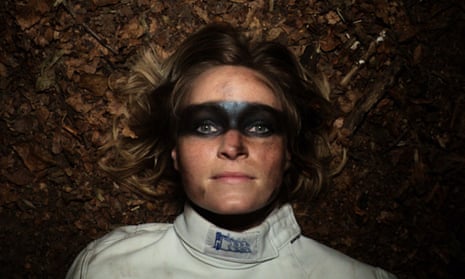 Tor Maries took her band name from an insult, and her sick-of-it-all songs decry sexism, dead-end jobs and social inequality. She's still wondering how success found her
"The reality of it always felt a little out of reach," Tor Maries says of making music for a living. Speaking in a Bristol pub in November, two months before the release of her anticipated second album Cacti, she seems gently stunned by the events of the last few years. Not just the obvious – Brexit, Covid, the cost-of-living crisis, take your pick – but the success of her solo project Billy Nomates.
Recorded with Portishead's Geoff Barrow, Billy Nomates' 2020 debut established Maries as a unique talent. She moved between a velvety coo and white-hot snarl, pulling inspiration from the fluidity of her hero David Bowie and the weathered gut-punch of singer-songwriters such as Kim Carnes. The music was sick-to-the-back-teeth no wave, bitterly kicking dead-end jobs, sexism and social inequalities like rocks down the road. Standout single No was a bass-driven slice of dirty realism, its slogan-esque lyrics unfolding in sharp spoken word like a feminist twist on Renton's "choose life" monologue: "No to protein shakes and mirrors / Yes to running at night fearless."
On stage she lets loose like Germs frontman Darby Crash by way of a big night out with the girls. "I feel like you don't get to see a lot of un-delicate female movement," she says of her performance style. "I just want to see someone fucking lose it." It's clear why she's had cosigns from Sleaford Mods, Iggy Pop, Florence Welch and Steve Albini, all masters in physicality. But in conversation Maries is laid back, almost shy. The 32-year-old cuts an effortlessly cool figure in a peacock-blue shirt and frequently runs her fingers through her dirty blonde shag mullet. Artists like her don't get much play in the UK these days: unassuming women from working-class backgrounds, with a natural charisma and tenacious vulnerability that resonates with teenage girls and older rockers alike.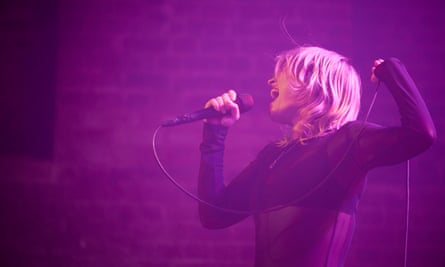 Growing up in the Midlands market town of Melton Mowbray, Maries spent her teenage years as "a bit of a weirdo" with headphones permanently jammed into her ears and a desire to escape. Her musical foundations came from her dad, a music teacher, pianist and guitarist who's played in rock bands all his life. It was his CDs – Dire Straits, the Police, the La's – that remained on rotation in her Walkman, his instruments she'd pick up to "write little ditties" on, and his time living on the Shetland islands that sticks as one of her earliest musical memories. "I remember being taught jigs and reels on the fiddle, understanding melody through traditional folk music," Maries says. "I was lucky in that respect. My dad brought me up and he was a real gateway to music. That was our total bond and way of communicating, and still is in some ways."
Maries left school with "barely any" GCSEs, failed her A-levels, and accepted a life of "working in pubs, shops and cafes"; in adulthood she was diagnosed with dyslexia and dyspraxia. Although she never fantasised about being a professional musician, she had an inkling that songwriting could be her thing. "It's all I've ever done, and I always hoped that I was right because it's the only thing I can really do," she says. "Then you get to your mid-20s and you're like, oh, everyone thinks that, and actually it's incredibly difficult. But in my heart of hearts I wanted to do it, and maybe thought I could."
But after toiling in unsuccessful DIY bands and feeling like she was failing at conventional life, Maries quit and started working in marketing. She didn't touch music for five years, until she turned 28, perceiving the industry as a closed shop. Following a difficult break-up, she moved in with her sister in Bournemouth and slipped into depression so deep it forced her to start writing again – not out of ambition but pure necessity, channelling her emotions into the barbed, brutally honest songs that would become Billy Nomates. When she DM'd her music to Sleaford Mods' Andrew Fearn on a whim, he passed it around and it quickly found its way into the hands of Geoff Barrow, who signed her to his label Invada – just as the pandemic hit Europe.
Bred in the post-pandemic atmosphere of malaise and burning out on bad news, Maries' second album sees her shed some of the armour she built to re-enter the music world. There are flashes of the bravado of her debut, but also a real wellspring of vulnerability. "That's not something I've really done before so it felt important to put that in there, just to disarm it a bit," she says. "I sometimes think there's a bit of a preconception that [Billy Nomates] is this fierce, bold thing, and I suppose it is on the surface, but it's all driven by such anxiety and fear."
The deadpan vocal delivery prevalent on her debut has evolved into a light but mighty scaffolding for much softer melodies. There are "candid conversations" with her own depression on lead single Blue Bones (Deathwish), a disillusioned scramble for purpose on Balance Is Gone, and a trio of tracks that grapple with the collective psychology of the pandemic – the horrors, the resulting apathy and the brief moment of respite. "It's the first time in my life when capitalism wasn't actually operating at full speed," she says of the glowing synth-pop closer Blackout Signal. "I could put music in the world and then just do my Asda shop and that was me done."
Another song, the dizzy and subtly danceable Saboteur Forcefield, confronts her tendency towards self-sabotage – a habit in romantic relationships, as well as her relationship with herself. As the moniker suggests, Billy Nomates is a self-contained project. Maries writes primarily by and for herself, partly "to calm my own mind" and partly to be able to afford releasing music "through Covid, through Brexit restrictions, through venues taking your merch profit, through the whole broken model of the whole thing".