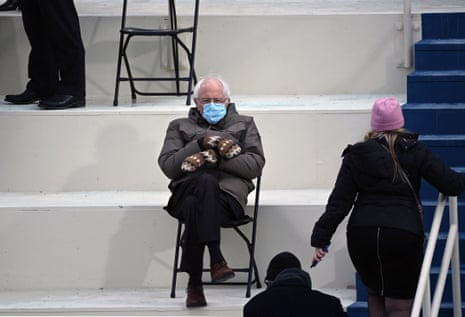 'When this picture of the senator at Joe Biden's inauguration went viral, someone actually sent me a pair of these gloves. They're made by a schoolteacher in Vermont'
This picture was taken during the early part of Joe Biden's inauguration in January 2021, when the invitees were arriving. I work for Agence France-Presse, one of the bigger wire services in the world. There's basically three left these days and we're all competing. We hardwire our cameras to the internet so we can transmit images directly. When I saw Senator Sanders come in, I took a couple of pictures and decided which to send.
This is a very typical Bernie Sanders moment: sitting down and minding his own business. Officially an independent, he talks to who he needs to talk to, but he doesn't run around schmoozing. His outfit was either perfectly planned, or it wasn't planned at all. It was cold, it's not super stylish, but it does the job. A pair of these mittens actually found their way to me after the image went viral – and they're damn good mittens, made by Jen Ellis, a second-grade teacher in Vermont.