Avatar: The Way of Water overtakes Top Gun: Maverick at the global box office
James Cameron's second film in the Avatar series is set to earn $1.5bn globally, pushing it past the Tom Cruise adventure to become the highest-grossing film from 2022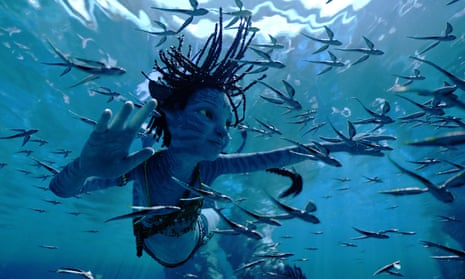 Avatar: The Way of Water, the sequel to James Cameron's worldwide 2009 blockbuster Avatar, will overtake Top Gun: Maverick as the highest-grossing film released in 2022.
According to Deadline, the film's receipts mean it will pass $1.5bn globally on Thursday, going past Top Gun: Maverick's $1.49bn. However Top Gun – which came out in May – remains the highest-grossing film of 2022 as Avatar's total is exceeding it only in first week of 2023.
Cameron has been working on Avatar: The Way of Water since at least 2006, three years before the first Avatar was released, when he announced that two follow-ups were being planned. Avatar 2 and 3 were originally scheduled for released in 2014 and 2015 but were repeatedly delayed as Cameron grappled with increasingly complex storylines and developing technology. Filming has been completed on Avatar 3, while production on a fourth and fifth film is under way.
Top Gun: Maverick is the sequel to the 1986 action hit Top Gun; both films star Tom Cruise as a daredevil navy fighter pilot. Top Gun: Maverick is the highest grossing film of Cruise's career, and his first to take over $1bn.
The Way of Water now moves into 11th place in the list of all-time box office grosses, behind The Avengers and Fast & Furious 7 in 9th and 10th place respectively. The original Avatar still tops the table, with total receipts of $2.9bn.
The Way of Water is currently No 1 in at least 45 countries worldwide, with reported takings of $475.5m in the US, $162m in China and $54.3m in the UK. Its only serious current challenger is Puss in Boots: The Last Wish, which is topping the charts in several Latin American and eastern European territories.
According to Variety, the film's $350m production cost and estimated minimum $100m for publicity means $1.5bn is its break-even figure, meaning that the release of further instalments in the saga are all but inevitable. The Way of Water's results also mean that its distributor, Disney, is the highest earner at the global box office for the seventh year in a row, with takings of $4.9bn.