As Black girls we have to kick the door down': Flo on their rapid rise to stardom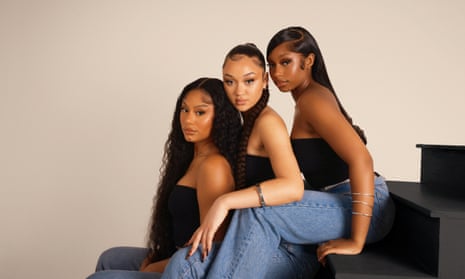 The girl group have been releasing music for less than a year, and already have Brit and BBC Sound Of awards to their name. They discuss TikTok fame, fighting for their success and being 'bigger than periods'
Flo arrive at the central London restaurant where our interview is taking place, in this order: first comes 21-year-old Stella Quaresma, arriving before we've been shown to our table; then Renée Downer, aged 20, once we've been seated but before drinks are ordered; and finally Jorja Douglas, 20, who announces that "the label don't know how to book a cab!" as she sits down with just enough time to skim the menu and request a cacao smoothie. Their staggered entrances makes the difference between a group of girls and a girl group all the more perceptible; with the important business of what to have for lunch taken care of, the trio shift into a different gear, synchronising as a unit, transforming into Flo.
Barely a year ago, these young women were pretty much anonymous. But then came the release of their debut single Cardboard Box in March 2022. Since then they have clocked more than 35m streams, in excess of half a million followers on social media, sparked a viral TikTok dance trend and impressed audiences with performances on Jimmy Kimmel Live! and Later … With Jools Holland. They open 2023 with the Brits' rising star award under their belts, and as the first girl group to win the influential BBC Sound Of poll.
A cheer, at a volume respectful of the other diners, goes up around the table when these accolades are mentioned. "It just keeps going!" says Quaresma.
"It's the moves we wanna be making and the achievements we wanna be accomplishing," says Downer.
"Especially so early on," Douglas says. "We're so fresh, so to win both those accolades in only seven months of releasing music is such a … " she trails off, lost for words.
"A slay," says Quaresma.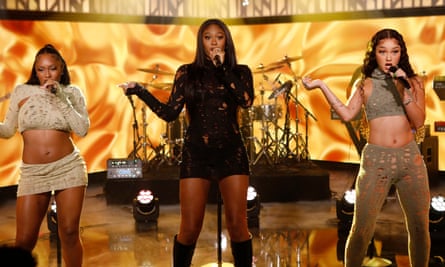 Pop acts are less likely to come completely out of nowhere these days – new acts often slow-burn on the internet for years before sparking mainstream attention – but Flo seemed to appear overnight. A single tweet, embedded with a clip ripped from the Cardboard Box video, brought them to the attention of the generation who lived through peak-era girl bands – Destiny's Child, TLC, early Sugababes – and the generation that, like Flo, want to revive that late-90s/early-00s sound. Early fans included Kelly Rowland, Brandy, JoJo and Leigh-Anne from Little Mix, whose support has been seen as a tacit passing of the baton. Their rapid ascent led to accusations that Flo are "industry plants", an expression that once referred to any manufactured acts marketed as authentic, but is now used as a catch-all term for successful major label signees [Flo are signed to Island Records], especially if the acts – and/or their fans – are women.