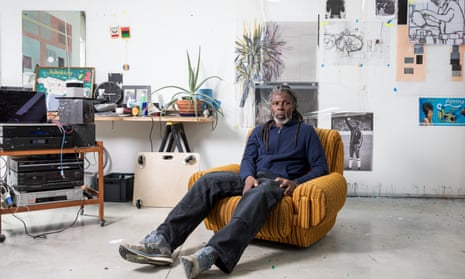 Artist Hurvin Anderson: 'I'm always nervous about the word identity. I try not to use it'
Last week, the British painter was named a Royal Academician. On the eve of his solo show at the Hepworth Wakefield he talks about Black British art, the difficulties facing working-class artists today – and the appeal of the Caribbean barbershop
Hurvin Anderson lives and works in the middle of nowhere. His wife, Alice (also his studio manager), has to pick me up from the station because taxis can never find the place. Their Cambridgeshire home, which they share with their three young children, is the kind that "home inspiration" Instagram accounts would eat up. It has a spiral staircase, expansive windows looking out on to endless greenery and a room that is an actual circle. Next door to the large property is Anderson's equally impressive purpose-built studio on land where an old farm building once sat. "It's just somewhere to work," Anderson says in a rather humble manner for an artist once described by the Turner prize judges (he was nominated in 2017) as "an outstanding British painter whose art speaks to our current political moment with questions about identity and belonging". Anderson used to have a studio in south London but the travelling back and forth became too time-consuming. Still, he has a love-hate relationship with the new one. "It's a bit too close to home," he says. "But I'm able to work in longer spells. It was hard getting back from London. It became impractical with the kids."
We sit in the bright airy studio surrounded by objects – plants, sketches of figures, a map of Jamaica, mirrors, posters and paintings in progress. Anderson talks slowly and in a way that reads as nervous, but he's warm and smiley and thinks carefully about his responses. He is wearing jeans and a dark blue hoodie and, at 58, has the face of someone much younger; a greying beard and are the only signs of his age. He's been making art for 25 years and has exhibited all over the world, including, in recent years, in two major British group shows: Tate Britain's Life Between Islands and the touring exhibition British Art Show 9. Just last week he was named a Royal Academician and now, he's getting ready for his own exhibition at the Hepworth Wakefield entitled Salon Paintings. On show will be work from his best known series depicting barbershops, a selection of his drawings and more experimental work, plus a room curated by Anderson of work by British painters including Michael Andrews, Sonia Boyce and Denzil Forrester.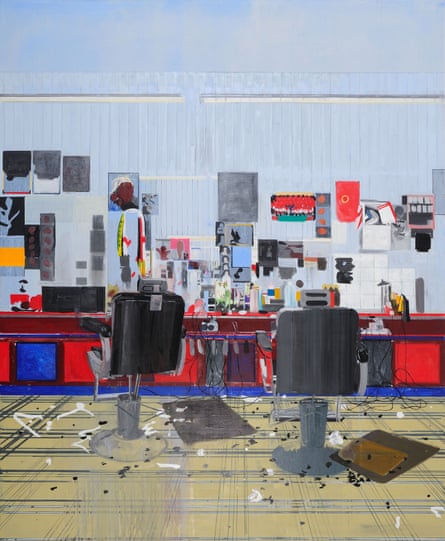 So what is the fascination with barbershops? Anderson began painting them in 2007 after his father took him to a Jamaican barbershop in a converted attic in Birmingham. "When I first saw the space, it was actually more about the mirrors. I walked in. It was quite still. Guys were waiting. People were cutting hair. Then you'd turn around 90 degrees and there's two mirrors behind you. It's an odd atmosphere to work in. To have so much reflection. To see yourself constantly." He took photographs of the salon and used them as a basis for his colourful, semi-abstract works, featuring, variously, figures, barber's chairs, bottles, machines, and walls of mirrors and posters.
The imagery found on barbershop walls fascinated him too. "Hairstyles, of course, but also football teams, newspaper articles. It gave another twist somehow.
"A lot has been said about the conversations that go on in barbershops," he adds, and incorporating the posters "was a way of bringing these conversations into the paintings." The colours and aesthetic of the barbershops, he tells me, were a way for those from the Caribbean to feel more at home in England. Talking about his actual childhood home, he says, "There's a photograph of [the interior of] our house and it's just wood. My dad had gotten this wooden wallpaper. I never knew why until I went to Jamaica and saw some of the places that people lived in. I thought: 'Oh. It's a way of bringing some of that back here.'"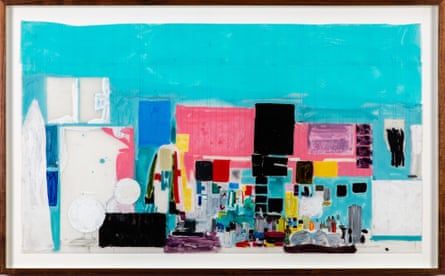 ---
Anderson was born in Handsworth, an inner-city area in Birmingham, in 1965. His mother was a seamstress, his father a welder, and they had migrated to the UK from Jamaica as part of the Windrush generation. Hurvin was the youngest of eight children and the only one to be born in England. His family were supportive of his creativity. His mother put his drawings up around the house. "They didn't say no," he says. "I knew other people around who were creative, so it wasn't frowned upon." After school he didn't pursue an art career straight away, trying his hand at other things first. One of them was setting up a recording studio but, he reflects, "when something isn't for you, the routes never seem open to you"; another was doing graphic design projects and painting murals around Birmingham with a couple of friends on the Enterprise Allowance scheme (a Margaret Thatcher initiative that gave £40 a week (equivalent to earnings of about £150 a week today) to unemployed people to set up their own business).
When that didn't work out he spent a year working as a surveyor, measuring up premises and calculating their property tax, but he was starting to think about doing an art foundation course. He was 25 by the time he enrolled at Birmingham Polytechnic. "I had a friend called Brian and we were doing an illustration course. He said to me: 'I think you're more of a fine artist than an illustrator.'" That was the trigger for Anderson, who went on to study at the Wimbledon College of Art and the Royal College of Art.
As well as the barbershop paintings, Anderson is known for his vibrant landscape works. These rapturous scenes of greens and blues draw on an idea of the Caribbean that is part reality, part imagination. "You heard so much about these places when you were growing up. You wanted to experience it. You oddly feel like you know it more than you know Britain," he says. "I'm always nervous about the word identity. I try not to use it, but I'm fascinated with owning somewhere, or feeling like somewhere is yours. I live in the countryside but have not yet found a way to be drawn into the landscape here. Whereas when I go to Jamaica or the Caribbean, there's a bit of me that wants to bring it back." It's partly the distance that keeps Anderson returning to the Caribbean in his work. "When it's further away, it's more interesting. There's a romance to it."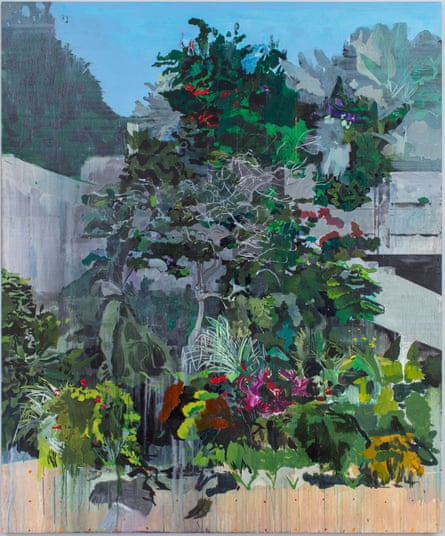 In 2021, Anderson exhibited an arresting new series depicting an abandoned hotel complex in Jamaica at Thomas Dane Gallery in London. The paintings show geometric concrete structures overwhelmed by forestation. His preoccupation with these ruined landscapes began in 2017 when he and his wife and young children were on a beach in Jamaica "releasing turtles" and suddenly noticed some abandoned buildings. "We walked to this beach that was slightly inhospitable. You could hear the rushing of the sea against the hills and the shear of the rock. We walked along and saw these disused hotels." The buildings were overgrown with greenery but further on, they could see that new hotels were also being built. "They didn't even bother to knock the old ones down. They just left them there."
These deserted hotels represent the fallacy of paradise and speak to the exoticism and tourism that plagues Jamaica. "When I was very young, I would stay with my sister. But when people go back [to Jamaica] now, they don't stay with family. They go to resorts. It does feel like a shift." Still, he found a certain beauty in these abandoned sites. "I was interested in that clash between nature and the modern. All of these concrete structures, and then nature taking it back." There was a sense, he says, of, "'You can do what you like for now, but we'll take it all back.'"
Looking at Anderson's work, it's clear that he wants to evoke feelings rather than convey facts. "For me, there was always something false about the photorealistic," he says. "Each time [I paint], I want to acknowledge to the viewer that this is made up. There is truth in there, but also elements of fiction." When it comes to his materials and techniques, Anderson typically starts with acrylic and then works on top with oil. "I enjoy the spontaneity of acrylics. They dry quickly. You can move quickly. I want that speed. You want to be able to play a little and move things around. But you can find yourself getting too involved in the painting, because you can do so much. Oils are a different creature," he says. "I see why historically, it's the thing to conquer. You have to be much more sure."
---
Anderson's career is a working-class success story; his achievements a feat many would have deemed impossible. I ask if he's considered "special" in his family and he rejects the notion immediately. "No. I think everyone is a success in their own right," he says, referring to his siblings. Many of them are now retired, but one works as a carpenter, another in nursing, and another is a chef in a school. He says his success is also partly down to the era when he started out. Higher university fees and higher living costs are only some of the deterrents stopping young people from pursuing a career in art today. I bring up Structurally F–cked, a report published by Industria and a-n (the Artists Information Company) in March, which calculated that artists who responded to their survey and had been contracted to deliver projects by publicly funded galleries in England, Scotland and Northern Ireland for a fixed sum were being paid a median income of just £2.60 per hour. "I wonder, if I was coming through now – would I have taken that leap?" says Anderson. "Your rent might have been expensive [back then], but maybe travel was cheap. You would work part-time and you were able to cover [your outgoings]. You weren't able to save but you could make a living, whereas now, I'm not sure if that holds."
Arguably, things are slowly changing in terms of race and representation in the art world. Lubaina Himid won the Turner prize in 2017, the year Anderson was also nominated; and Sonia Boyce represented the UK at the Venice Biennale in 2022. But the landscape was very white even just 10 years ago. "Then, you'd look around and see that the music industry was there for Black people as a way to get through. In terms of fine art [that wasn't the case]. But we were here and we had a voice." The rise of the British Black Arts Movement and the landmark 1989 exhibition The Other Story (which featured work by Himid, Frank Bowling and Rasheed Araeen and transferred from the Hayward to Wolverhampton Art Gallery in 1990) were pivotal moments for him. "Those were quite key small bombs going off in terms of possibility."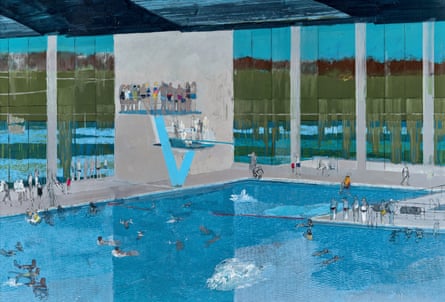 Still, the heights that Anderson has reached today were unimaginable to him back then. In 2021, his painting Audition, depicting a large swimming pool scene and painted in 1998, sold for £7.4m – five times its estimate. It became the fourth most expensive painting ever sold by a living Black artist. "You kind of tune out in a way," he says referring to his groundbreaking sales, but "I don't want to pretend that I'm not aware."
One might imagine that Anderson received a fat cheque off the back of that sale, but that wasn't the case. In the UK, an artist gets royalties on a sliding scale that starts at 4% for a resale of up to £50,000, and decreases to 0.25% when the price exceeds £500,000, with a ceiling of £12,500 on the total payment. "It's the market," he says. "You make paintings. You make work for the ideas. But then there's the business. And that's where everything can get murky."
His new exhibition isn't about that side of art. It's a chance for him to explore his obsessions with the pastoral, and also, play with his approach to mark-making. "I use colour as quite a practical way to mark out the space – like with this pink and light blue," he says, indicating a large painting featuring two men getting their hair cut, which will be the centrepiece of the Hepworth show, where he has used these two colours to differentiate between the mirror and the wall. His methods are influenced by the likes of William Coldstream and Euan Uglow, British painters who used colour in a similar way.
Anderson's approach to art feels both honest and earnest. His approach to his home life seems similar. When I ask what he does in his spare time, his reply is very wholesome. "It's basically the kids." He's got an older daughter too, he tells me. "And I've got grandkids." He paints with the young ones sometimes, but not too often. "I'm trying to steer them away," he laughs. "There's lots of other things out there that we should be doing."