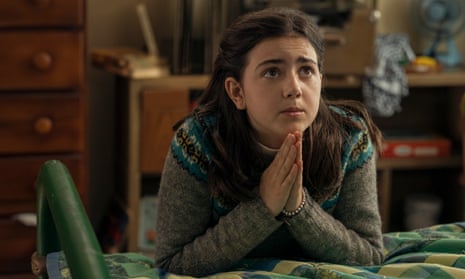 Are You There, God? It's Me, Margaret review – Judy Blume's classic pre-teen tale retold
Set in 1970, the year Blume's novel was published, the sweet-natured story is engaging but does feel a little out of date
Judy Blume's proto-YA classic from 1970 gets a screen adaptation; it is a sweet-natured, undemanding, oddly inconsequential movie about a lonely, smart 12-year-old anxious about the onset of puberty and adulthood. Blume herself gets a producer credit and a blink-and-you'll-miss-it cameo. The movie is played as a 1970 historical piece rather than being updated to the modern world, which would of course require LGBTQ+ plot additions, though I suspect a completely original drama of this sort set in 1970 would not tacitly consent, as this does, to the invisibility of gay people.
Ant-Man's Abby Rider Fortson is engaging as Margaret, who has to move from New York to New Jersey when her dad Herb (Benny Safdie) gets a big, though unspecified, job and his wife Barbara (Rachel McAdams) agrees to quit her art teaching career to be a stay-at-home mom for Margaret out there in the burbs. Margaret desperately misses her New York-based grandma – that is, her dad's mother Sylvia, a nice performance from Kathy Bates – and there are other problems. Barbara is bored and unsatisfied (are they living in the same street as Mad Men's Don and Betsy Draper?). Her mother's devoutly Christian and bigoted parents objected to her marrying a Jew, which means Margaret has never met them. And then there is Margaret's black comic embarrassment-ordeal of growing up: the boys, the training bras and the sanitary towels.
But what about God, the absent character to whom Margaret occasionally addresses her concerns in private, and whose existence she never doubts for a moment? Does she get an answer? It was the ostensibly serious, religious nature of the novel that no doubt allayed the fears of school librarians and teachers back in 1970, and allowed Blume her admirable candour in addressing sexual themes; I myself kept waiting for God to "reply" with some epiphanic moment of divine revelation, the sun coming out from behind a cloud at a key point. Well, fortunately nothing so crass occurs, and that's a relief though also perhaps an anticlimax. A sweet, eminently sensible film.