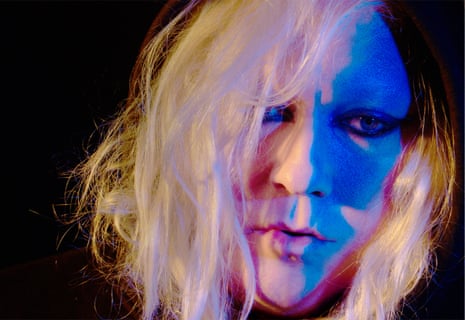 Anohni on anger, empathy and trans rights: 'The UK is one of the most misogynist countries in the world'
The spellbinding singer returns with an album of warm, empathic folk-soul – plus a screaming lemur – to salute LGBTQ+ trailblazers, Lou Reed and more. She explains why we must embrace forgiveness if we are ever to make change
In the summer of 1992, Anohni kissed the hand of Marsha P Johnson. Then 21, the British-born singer had moved to New York to study experimental theatre at New York University and was beginning to piece together her chosen family. "I quite idealised her," Anohni says today of Johnson, the renowned activist who fought in the 1969 Stonewall uprising against anti-LGBTQ+ policing in New York, and spent her life at the vanguard of queer and transgender liberation. "A lot of her innovations were unprecedented."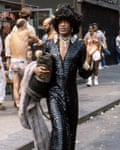 Six days after Anohni met her, Johnson's body was found floating in New York's Hudson river in circumstances that remain mysterious. "That period of weeks changed the direction of my life," Anohni says. Since then, Johnson has been something of a spiritual guide: Anohni named her band the Johnsons in tribute, and on her debut album, 2000's Antony and the Johnsons, exalted Marsha on the chamber rock elegy River of Sorrow. "No precious liar or well-wisher / Can return the love that was stolen," she lamented.
"She was an extremely gregarious, humorous person, and super gracious," Anohni says, speaking via webcam on a sunny New York afternoon. "I'm sure she would have to be gracious to have responded kindly to me, the way I was dressed at that point." In this chapter of her life, Anohni had been known to stomp around downtown Manhattan wearing a silky slip dress and combat boots with the words "fuck off" written on her forehead aimed at gawping bystanders. What was she wearing to meet Johnson? "Let's not even talk about it!" she says, with a short laugh. "I was dressed very androgynous and punk."
Her new album, My Back Was a Bridge for You to Cross, credited to Anohni and the Johnsons (restoring the band name for the first time since 2010's album Swanlights) once again takes the late activist as muse in what Anohni calls a "full-circle moment". Johnson beams out from the cover art in a beautiful monochrome portrait taken by photographer Alvin Baltrop, who chronicled the gay cruising scene at Chelsea Piers on New York's west side, near which Johnson met her death.
The title is a pointed reminder of the sacrifices made by LGBTQ+ pioneers such as Johnson. "A lot of the people that have done the most heroic work for the culture have done it at great cost for their own wellness and their own comfort," says Anohni. "As queer-bodied people, it's easy to relate to that. Kids in the 70s and the 80s were still often getting thrown out of their houses before they finished high school. You find yourself fleeing to a big city where you can find an alternative to the family structure that you weren't welcomed within on account of your gender variance." There can be a hard-won upside to this, she recognises. "In a weird way, that experience becomes a gift, because it gives us a path out."
Anohni's last album, 2016's Hopelessness, was an unsparing condemnation of systemic injustice. Over grinding electronic beats, it conjured barren landscapes pockmarked with graves. But My Back …, with its gorgeous bed of pastoral folk and 70s acoustic soul, casts a more empathic gaze. Lead single It Must Change addresses suffering the blows of prejudice and trying to relate to those who wish you ill. "I always thought you were beautiful in your own way," Anohni sings gently over laid-back guitar and lush strings, "that's why this is so sad." The video stars author and LGBTQ+ activist Munroe Bergdorf.
"The song is wider than just trans rights," Bergdorf tells me. "But as a trans person at the epicentre of the movement, it really spoke to my experience, wherein 'the way you talk to me, the things you do to me' – it must change." She adds that she wanted to communicate a serene confidence in her performance. "The conversation around transgender rights is chaotic. But the community is calm, resilient, and strong."
While Anohni's themes have not wavered, she says, her approach has become more tender. There is a lot more forgiveness in a song like It Must Change, she says, "an almost impossible necessity for forgiveness that, paradoxically, we're going to have to move through in order to resume any agency to make change". In part, she credits this shift to her age. "As you get older, one's approach does subtly shift," says Anohni, now 51. "And I keep circling different themes, trying to find different ways to [approach them]."
Anohni recorded My Back … with producer Jimmy Hogarth, who worked on Duffy's retro-soul Rockferry. "I have a soft spot for her," Anohni says. Initially they referenced the lush arrangements of Nina Simone and jazz singer Jimmy Scott, but they soon found a groove of their own: Hogarth would play guitar, Anohni would go through her notes to find lyrics that fit and they would immediately record, making three or four songs a day. After two weeks, the record was pretty much in place; later they brought in a band to fill out the instrumentation.
Many of the recordings are Anohni's first vocal takes. "It's a wonderful chance to record a song as you're realising it," she says. "It's like catching something that flies fresh and new into the world." The strutting jazz-rock of Can't bottles this spontaneity, as Anohni's visceral lyrics about "talking with all these rotten teeth" usher in an ecstatic melee of tooting brass, crashing cymbals and strutting guitar slaps; Go Ahead reimagines Anohni as a hard rock priestess, bellowing ominous warnings as what sounds like a guitar shrieks with feedback. (In fact, the shriek is the song of a lemur.)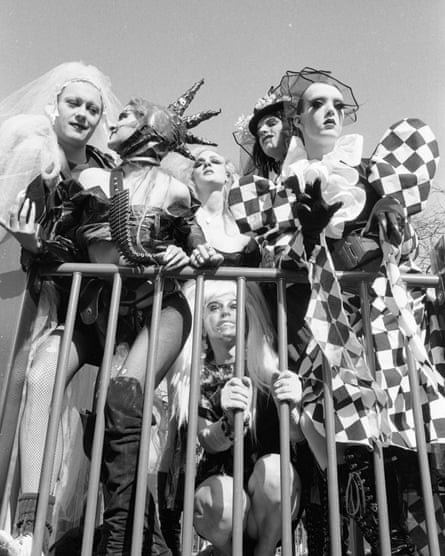 Anohni's vibrato remains as commanding as ever, but she has dialled back the hauteur of Hopelessness for a vulnerability that recalls the piercing emotion of her Mercury prize-winning 2005 album I Am a Bird Now. Over the skeletal folk of There Wasn't Enough, she begs for an end to ecological warfare; Sliver of Ice is a "goodbye song" to Anohni's late friend Lou Reed, inspired by a conversation they had in his last weeks. "A lot of those lyrics are things he said to me about an ice cube that had been put on his tongue," says Anohni. "It was such a revelation to him, that he'd never noticed how beautiful cold water was before."
Anohni, too, finds much to marvel at in Manhattan. What does a day off look like for her? "I love the [Chelsea] Piers in the summer," she says. "I like to go over there still, even though it's quite different. Even Washington Square Park's been quite fun. There's a lot of young people bursting at the seams."
Born in Chichester, England, Anohni and her three siblings were raised as Catholics. At around eight, she realised that the church did not accept people like her. "It was obvious I was transgender," she said in 2016. "As such there wasn't much of a seat for me at the table." Her mother was a photographer and her father an engineer, whose job took the family abroad. After a spell in the Netherlands, the Hegartys settled in San Jose, California, when Anohni was 10. In the UK she had enjoyed singing in the school choir, but her new classmates viewed it as effeminate and shameful. She took refuge in music, drawn to the new wave of Yazoo and Culture Club.
Seeking a way out, in 1990, Anohni moved to New York and soon became an integral part of Blacklips, a self-styled "performance cult" who staged weekly events at the famous Pyramid Club. "The audience was pelted with buckets full of blood and guts, knives, sperm, jewels, drugs, shit and love," Anohni says in Blacklips: Her Life, and Her Many, Many Deaths, a new book chronicling the collective. And, just as Blacklips were beginning, the death of Marsha P Johnson brought a new impetus to Anohni's work, cementing a sense of "where I was going to sit, what values I was going to name in the course of doing my work, and what I was going to be leaning on and drawing inspiration from," she says.
She began writing and performing songs that would become Anohni standards. By her early 40s, she was performing them with the London Symphony Orchestra. "It's very wild to write a song that you perform in a club to an audience of none, and find yourself 20-plus years later, singing to symphony halls full of people," she says.
Anohni collaborated with Björk and Laurie Anderson; a song she wrote for the 2015 ecological documentary Racing Extinction earned her an Oscar nomination. As her audience grew, she began to use her voice differently. In 2014, after releasing five studio albums, Anohni collaborated with four female artists on their Future Feminism manifesto, with 13 tenets inscribed into rose quartz discs. In a spirit that would come to define Hopelessness, the first read: "The subjugation of women and the Earth is one and the same."
Despite the tenderness of My Back …, Anohni's fire has not dimmed. When looking back on her early life in the UK, she cites the "petrochemical postwar bubble of plastic wellness" built on the denial of Britain's history of slavery. We go on to talk about the US supreme court rolling back Roe v Wade and Florida's recent ban on gender-affirming care for trans kids. Does the rise of draconian anti-LGBTQ+ legislation ever make her reconsider living in the US?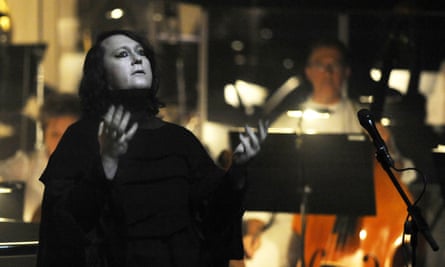 "A lot of people don't feel much safer in Britain," she says, shortly. "This anti-trans nightmare is being birthed in the UK. The UK is one of the birthplaces of loathing gender variance. It's one of the most misogynist, woman-hating countries in the world. It was since I was a child, because I remember how it affected my mum, how it affected my sister, how it's affected my family, how it affected me."
Anohni launched Hopelessness with the single 4 Degrees, an angry indictment of climate inaction released to coincide with the 2015 UN climate conference in Paris. Yet she sought to avoid didacticism on My Back … and its measured engagement with hot-button topics comes off as a reaction to the "us v them" mudslinging of contemporary discourse. Anohni finds this kind of binary thinking of little use. "I was raised to believe in light v darkness, yin v yang, male v female," she says. "It's this hideous infantilised [idea]. It's stripped of its own empirical reality."
She hopes, instead, that the ecological themes of My Back … will offer a road map out of conflict. "We're connected to life on Earth; all those creatures of the world are our family," she says. "And we have to account to our family right now. An aspect of this record is to give people one version of a blueprint for how to talk to oneself through some of these painful truths that we're all immersed in." That's the bigger project, she adds: "It's a gift to know a little bit more about what life on life's terms is really about, because that gets me a bit closer to nature. It gets me a bit closer to the tree that falls in the forest, the fox with a broken leg stumbling through a coalfield."
Anohni has no defined plans to tour the album but has a busy summer ahead. An exhibition of her paintings and collage work opens in Amsterdam next month, where she will also restage the Future Feminism series. "We're working away feverishly," she says, as the sun turns golden. At this point in her life, Anohni is a spiritual guardian for many, as Johnson was for her. If there's anything she can impart, she says, it's that "the pain of this experience" – living – "is a part of this experience, and our creative experience. It's a gift. As excruciating as it is, it's also life in action."