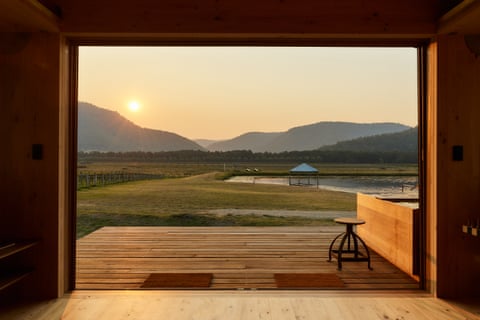 The view from the deck of a Dimensions X prefab home prototype in Krinklewood in the Hunter Valley. Photograph: Jedd Cooney
All of a sudden there's a house': could prefab be the future of Australian homes?
They were once a byword for poor design but prefabricated houses can be green, fast, affordable – and pretty, architects say
Awooden deck stretches out to a view over the horizon. It welcomes the mountain air but does not blow you away. Inside, morning light beckons through skylights before curtains play with the afternoon sun. Open plan but comforting, functional but fun. This house has has been put up in a matter of weeks, from pieces made in a factory hundreds of kilometres away. This is the new generation of prefab homes.
Prefabrication first came to prominence in the postwar period as a means to quickly address a lack of housing, population growth and labour shortages. Cheap but generally not cheerful, prefab homes were typically made of cold, hard concrete, steel and aluminium, and often asbestos cladding. With windows and doors copied and pasted on mass-produced boxes, they were far from a homeowner's dream, nor intended to last.