After Impressionism review – radical ideas and ecstatic sex from the edge of a new universe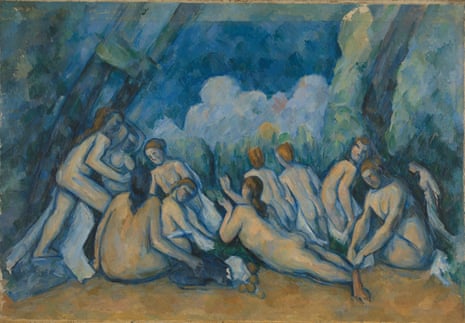 Dismantling art and nature … Bathers (Les Grandes Baigneuses) by Paul Cézanne.

 Photograph: Paul Cézanne/National Gallery
National Gallery, London
Cézanne outshines Van Gogh, with Picasso his revolutionary pupil, in this absorbing hurtle toward modern art – smashing 500 years of tradition into cubist shards
'Make it strange" is one of the slogans of modernism. The National Gallery's show After Impressionism makes modernist art itself strange, by seeing it from the past – the Victorian salons where this revolution in the arts actually started. It is a flawed show but one I found hard to leave. European art in the 1880s and 1890s hurtles towards the "modern" before your eyes, yet also burrows away into recesses of nostalgia and pastoral – and you lose yourself, as modernism wants you to.
You can cut a line through the exhibition and follow the high road of the new, ignoring all those odd byways. Simply rush from Paul Cézanne's Mont Sainte-Victoire with its hypnotic field of broken, tentative, obsessive dapplings held together by an iron intellect, straight to Pablo Picasso's 1910 portrait of Wilhelm Uhde. This writer and collector is the last man, the last bourgeois individual, in Picasso's revolutionary portrait. His cartoonish features, pinched and prissy over a stiff wing collar, are disintegrating into a crystal cavern of invisible structures made suddenly visible. This is the maze of "cubism", that takes its start from Cézanne's analysis of vision. This is where, by 1910, the most radical art stood – on the edge of a quantum universe.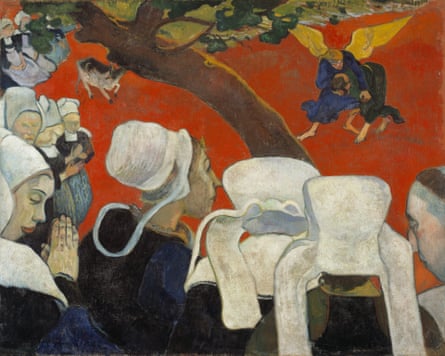 Trying too hard … Vision of the Sermon (Jacob Wrestling with the Angel) by Paul Gauguin, 1888. Photograph: Paul Gauguin/National Gallery
Picasso is the gifted pupil Cézanne never met. You can see that by darting to the end to see Picasso's Woman with Pears, a portrait of his lover Fernande Olivier done in 1909. Is it a portrait? Fernande's head is massive and industrial. Like a taut spiralling girder for a modernist monument, her neck tendon shoots up in a curve of electrifying torsion. Her eyes are diamond studs in a face of jarring planes, her hair a heap of black croissants. Yet beside this immense mask of the new age are perfectly recognisable, simplified pears on a table. They are Cézanne pears. You can go back to room two and check, by comparing them with the fruits in Cézanne's Sugar Bowl, Pears and Tablecloth.
This is the 50th anniversary of Picasso's death. Modernism, the movement that sought to remake everything in art from a new, primal beginning, belongs to history now, but it does not get old. That is because it takes apart centuries of tradition in the name of a more basic truth. All the artists here are looking for truth, even if they don't all find it.
They saw this deeper human reality as primal. "Primitif", to be exact. Modernism was born in Europe's age of empire. From Tahiti in 1892, Gauguin sends the poet Stéphane Mallarmé a wooden carving named after Mallarmé's poem The Afternoon of a Faun. His extraordinary object merges classical myth with racial stereotypes to portray a goat-legged Polynesian man desiring a Tahitian nymph. You can't fault Gauguin's clarity. The sensual Arcadia that Mallarmé conjures is a real place in the Pacific, says Gauguin.