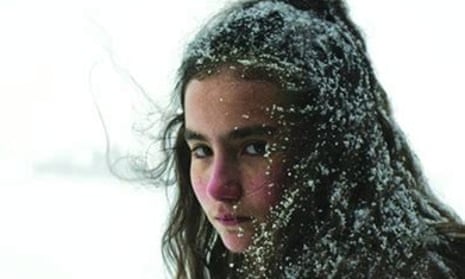 About Dry Grasses review – Nuri Bilge Ceylan's absorbing drama of a teacher-pupil crisis
The latest film from the Turkish film-maker is a studied, Chekhovian film about a schoolteacher accused of abuse by a female student
Turkish auteur Nuri Bilge Ceylan has delivered another of his expansive, ruminative and distinctly Chekhovian character-driven dramas. Again it is spread out across the landscape of western Anatolia, and again there is Ceylan's emphasis on still photography and portraiture. This film does however have one very atypical touch: a very startling and Brechtian meta-moment when we are reminded this is a film we're watching, and the tiny and flickeringly firelit interiors are created on a soundstage.
It certainly does however have a very typical title: that is, forbidding and slightly disconcerting. In About Dry Grasses's final section, its lead character is to ponder the fact that the gauntly beautiful terrain of Anatolia seems to have only two seasons. The first is the snow-covered winter in which we get Ceylan's signature shot of a lonely figure plodding towards the camera in the snow. This suddenly gives way to bright summer, ahe ground will reveal itself to be covered in a featureless dry grass, which has a mysterious fascination in its austere beauty.
On the face of it, the film is (yet another) school drama about a teacher whose career is imperilled by a sexual abuse charge from a pupil. Samet (Deniz Celiloglu) is a balding teacher at a state school in the remote region who is very candidly bored with everything – or almost everything – and longs for a posting to Istanbul. He is a teacher who prides himself, a bit smugly, on how friendly and approachable he is with the pupils, but is capable of bad-tempered outbursts in which Ceilioglu is very convincing. He shares lodgings with a fellow teacher, the younger and more personable Kenan (Musab Ekici).
Samet has a favourite pupil: Sevim (Ece Bagci) a 14-year-old with whom he has flirtatious banter and sometimes puts his arm round. When a heart-bedecked love letter addressed to Samet is found in Sevim's exercise book by a member of staff, Sevim is humiliated and tearful and Samet is coldly embarrassed: his warm affection to her is replaced by a wary sense that this is going to get him into trouble.
And so it proves. Sevim comes to his office, the scene of so many inappropriate chats in the past and begs Samet to give the letter back to her; she instantly senses that his patronising claim to have destroyed it is a lie. In that moment, all her feelings for her teacher are transformed into rage, and this is to result in an abuse claim levelled against both Samet and Kenan. The insecure and prickly Samet suspects that it is the more attractive Kenan who is the prime object of these allegations (left unspecified by the school authorities), and this preposterous competitive streak has implications for his budding relationship with Nuray (Merve Dizdar), a woman who appears to prefer Kenan.
Life goes on in this place; the investigation into Samet goes on, his tricky and duplicitious friendship with Kenan goes on and so does his chatty, sarky friendship with other people in the village. It all continues without reaching any very sensational endpoint, yet without feeling anticlimactic either. This film, so apparently forbidding and opaque the way many Ceylan films initially are, has in fact something engrossing in its garrulous and wide-ranging quality: a literary quality in fact. Ceylan endows Samet with the qualities of a wryly observant narrator, disillusioned and unsatisfied and yet generous enough in his way.
This is another very absorbing movie from this unique director — a Cannes Palme winner for his film Winter Sleep — who thoroughly deserves his continuing A-list status at Cannes.