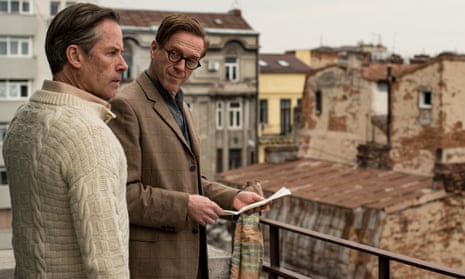 Guy Pearce is a charismatic traitor, Damian Lewis is an enigma and Anna Maxwell Martin carries along a fabulous drama that's full of excitement – if a tad stuffy
The story of the notorious MI6 agent and Soviet spy Kim Philby has been told numerous times before, but A Spy Among Friends (ITVX) has a fresh bash at it, using Ben Macintyre's book of the same name as its source and inspiration. The stakes are high. This is one of the flagship dramas to launch ITV's revamped online player and new subscription service. It comes with a starry cast and what should be an irresistible tale of intrigue, double-crossing and suspense, stretched out over multiple locations from Istanbul, Beirut and London to Moscow and Ohio.
It begins with the big reveal that Philby (Guy Pearce) is a traitor who has been working for the KGB and feeding them intel for the past 20 years. His close friend and fellow SIS (AKA MI6) agent Nicholas Elliott (Damian Lewis) is tasked with going to Beirut to retrieve Philby and extract a full confession, despite appearing to doubt the depth of his friend's betrayal. It becomes a sort of espionage stew at this point, jumping around in time from the early days of Philby and Elliott's friendship in the second world war, to MI5's 1963 interrogation of Elliott, to work out who knew what about Philby and when.