A new start after 60: I became a naturist at 75 – and it felt like freedom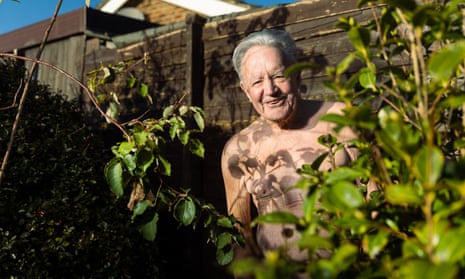 Stuart Haywood made his debut as a naturist at a 'clothes optional' day at a country house garden. His parents would not have approved
Shortly before his 76th birthday, Stuart Haywood made his debut as a naturist. He was visiting Abbey House gardens in Malmesbury, Wiltshire, with his wife Rhona (who is not a naturist), for a "clothes optional" day. He and Rhona share an interest in horticulture, but being able to walk around the gardens naked added a new dimension to Haywood's experience. He "felt free and relaxed".
The turning point occurred a few years earlier, when Haywood, 86, and Rhona signed up for an art course at the adult education centre near where they live in Newhall, Derbyshire. When Rhona was diagnosed with breast cancer, they cancelled, vowing that "once she had been cleared, we would do the next available course".
It turned out to be life drawing. "I was quite taken by the chap who was a male model," Haywood says. "The fact that he could sit in position for a long time without being able to move. I said to the woman who ran it, 'I could do that. Can I have a go?'" The teacher put Haywood in touch with Jackie Adshead, an artist with an erotic element to her portfolio.
Haywood went alone to Adshead's house. "She explained all the chalks and different things you can draw with … That was the very first time I stripped off before anybody, except my wife."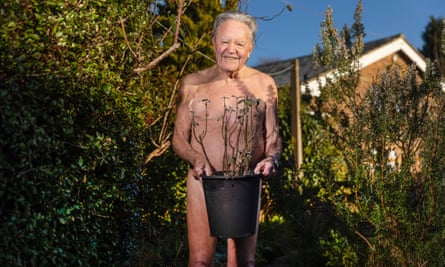 One of Adshead's pictures of Haywood now hangs at home in the front room. "Everyone who comes into the house sees it," says Haywood. "If people don't like it? As far as I'm concerned, I don't see anything wrong in the human body. Why they should get so excited about seeing a little bit of flesh hanging down, I don't really know."
Haywood prefers not to wander naked in his own garden, at the sheltered accommodation where he and Rhona live. "You don't want to upset your neighbours," he says. Instead, they holiday at Lakeside Farm naturist resort near Skegness. Rhona, 91, stays clothed, but "doesn't mind being in the midst of people that way inclined". When the couple renewed their wedding vows in 2015, after 55 years of marriage, Haywood, the officiant and most of the guests were naked.
So, how did Haywood come to find freedom in nudity? Were his parents very relaxed about the body? "No, I should say not at all," he says. They "wouldn't have thought very well" of his enjoyment of naturism.
Haywood's father, who became a bus conductor after the war, wanted his son to leave school at 15, but his mother insisted he complete his exams. The teenage Haywood lost interest in education when it became clear that university was not an option: "I was expected to bring some money into the household."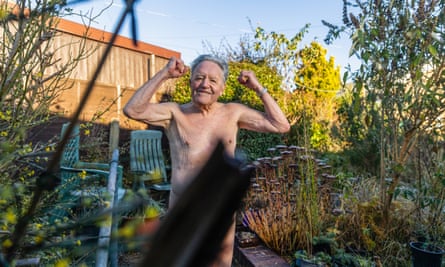 He got a job with a bookmaker, where he met Rhona, who was a co-worker. Stints as an accountant, and running a temping agency and a greengrocer, both also with Rhona, followed. When they sold the grocery, Haywood was 57, and he struggled to find more work and so he took a horticulture course and volunteered at Calke Abbey gardens in Derbyshire, rekindling his love of the great outdoors.
As a child, Haywood had roamed for hours around the 2,000-acre Bretby Park with his grandfather. He remembers looking up into a foxglove that towered over him, and seeing its blooms full of bees. Each spring, frogs laid their spawn in a ditch that filled with rainwater. "You could see all these things happening, just at the bottom of the garden."
In a sense, his interest in naturism has sprung from these moments. "It gives you an extra dimension to being in the natural world," he says. On holiday at Lakeside, he was wandering alone when he came face to face with a fox cub. They took each other in, before the fox shot off. "For some reason, because you've got no clothes on, it's a better experience."