Vardy v Rooney: A Courtroom Drama review – Peter Andre's 'trouser equipment' is a highlight
This drama is basically a blow-by-blow re-enactment of the Wagatha Christie trial – but when court transcripts are this daft, what more do you need?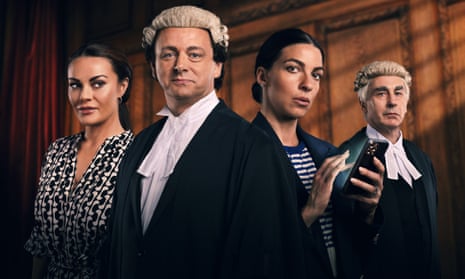 Do you remember that glorious time 800 years ago – that is to say, earlier in 2022 – when we watched the libel case brought by Rebekah Vardy against Coleen Rooney unfold in a million tabloid reports and a hundred billion social media posts? The so-called "Wagatha Christie" trial – that was the name that stuck, but I would just like to give a shout-out to whichever equal genius came up with "The Scousetrap"– was the highest drama for the lowest stakes, and briefly restored happiness and vigour to the nation.
Channel 4's distillation of this hugely enjoyable time, Vardy v Rooney: A Courtroom Drama, is its Christmas present to us. The endeavour is partly a regifting – it is almost entirely composed of trial transcripts and media reports – and partly a selection box. All the best bits have been whomped together and a bow, in the form of Michael Sheen as Rooney's lawyer David Sherborne, stuck on top to make it feel that bit more special.